Beautiful handcrafted cloth dolls, created not as a business but as a labour of love...
This is an opportunity to acquire one of Meg's limited number of exquisite creations.

A unique gift for a special child or a decorative and tactile ornament for your own personal space, Meg's dolls are a rare example of craft enjoyed for its own creative sake.





Limited Edition Dolls






Traditional Dolls


The hair is hand sewn, the faces hand embroidered and all the clothing is hand cut, sewn and fitted. Each doll requires up to 40 hours of work and each comes with her own numbered Certificate of Authenticity, signed by her creator Meg Davidson.




Jilly - Orders
| | |
| --- | --- |
| Sandy - Orders | If you want the enjoyment of making your own doll, you can buy her in kit form. Easy to follow instructions are included with each doll. |
Meg's Traditional Dolls - Features:



* Dolls are made of calico
* Hair is hand sewn acrylic thread
* Dolls are child-safe with no buttons, sewn eyes


(specify child-safe when ordering)
* Fabrics are gingham, poplin etc - illustrated fabrics subject to availability



**


Finished (made-up) dolls are made to order - allow up to 4-6 weeks

Kit-form dolls are available sooner

Kits are complete, with no made-up components

Traditional dolls cost - Finished Doll: A$89.95 Kit: A$59.95 plus postage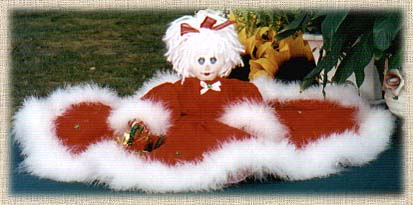 Christmas - Orders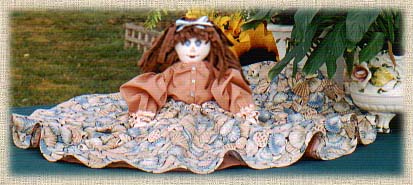 Seashells - Orders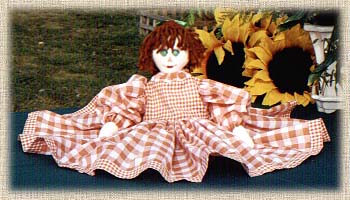 Country Checks - Orders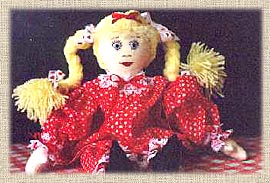 Lulu is a doll for small children, 100% child safe, 13" doll.
Special price A$39.95 ready made or A$25 for a kit in various limited colours, plus postage and insurance.
Lulu - Orders


Contact & Orders
Limited Edition Dolls