BACKGROUND
Murramarang National Park and the proposed additions extend from south of Bawley Point to north of Batemans Bay. Combined with the "Five Lakes Proposal" this would provide a superb coastal National Park between Milton-Ulladulla and Batemans Bay, the two major tourist centres on the South Coast. Murramarang National Park currently protects around 44 kms and 1,970 hectares of largely undisturbed coastline. The Park is outstandingly attractive, has important geological and biodiversity features and a very high value for coastal tourism, recreation and environmental education. The current Park is a narrow, discontinuous coastal strip, with parts of the southern section only 50 metres wide and an average width of only 366 metres, making it clearly unviable for coastal biodiversity and ecosystem protection or recreational sustainability.
The history of community support for a "Greater" Murramarang National Park is very strong, having lasted unabated for over two decades. The Friends of Durras, Total Environment Centre, Australian Conservation Foundation, National Parks Association and the South-East Forest Alliance have actively sought the expansion of Murramarang National Park since the mid 1970's.
In 1993, after an eight year campaign, the Friends of Durras, the National Parks and Wildlife Service and the Department of Planning succeeded in purchasing and adding to Murramarang National Park 370 hectares of forested private land (with nearly five kilometres of foreshore to Durras Lake) on the southern and western side of Durras Lake. Russell Smith, the local state member of parliament, praised "the widespread community support and the $113,000 raised by the Friends of Durras towards the purchase price of the land." The Friends of Durras have also lobbied for the inclusion into the Park of Vacant Crown Land adjacent to the south-eastern corner of Durras Lake. In February 1998, the Department of Land and Water Conservation advised that consent was given for the gazetting of this Crown land as National Park. We anticipate a formal declaration soon.
The addition of Benandarah, Kioloa and South Brooman State Forests east of the Princes Highway, is the final step necessary in creating an ecologically sustainable "Greater" Murramarang National Park; one the finest parks in New South Wales and indeed Australia. These forest areas would be worthy ecological and recreational additions and would greatly enhance the south coast's tourism potential and conservation of natural values.
The values contained in the proposed Kioloa State Forest additions were recognised, and most of Kioloa State Forest was deferred from logging, in the state-wide Interim Assessment Process (IAP). These same high conservation values are broadly found throughout the entire proposed addition to Murramarang National Park. These values are detailed below:
NATIONAL ESTATE
All of the proposed addition is on the Register of the National Estate, registered in 1983 as containing "a representative range of regional ecosystems which include forest, coastal, estuarine, riparian and wetland examples" and is "significant for both natural and cultural values" (Australian Heritage Commission (AHC) 1983). It is part of the Benandarah Area.
The Murramarang Area is further listed on the Register of the National Estate as a sub-area of the Benadarah Area, described as "individually significant." (AHC, 1983)
Murramarang National Park is listed a third time on the Register of the National Estate, particularly for its rainforest conservation values: "72ha of rainforest occur in the Murramarang National Park, which is an important and substantial occurrence in the Illawarra region. The rainforests of Murramarang are significant because of their diversity and extent." (AHC 1978)
With three separate and overlapping listings on the Register of the National Estate, the "Greater" Murramarang National Park area is clearly recognised as being of exceptional natural and cultural significance.
COASTAL ZONE
Almost all the proposed addition is classified "coastal zone" by the NSW Coastal Policy, 1997. This "interface between marine and terrestrial environments contains an inherent vulnerability" and unless new management strategies are adopted "the natural assets which make (it) desirable as a place to live will be diminished and the ecosystems necessary for the survival of a variety of life forms will be destroyed. A central focus of the 1997 Coastal Policy is the need to establish an adequate, comprehensive and representative system of protected areas and reserves in the coastal zone." Murramarang National Park is neither representative, comprehensive nor adequate and as such does not offer long-term protection to this "special region in need of special attention."
Few substantial areas of coastal forest are left in NSW, and with the unique and typically high levels of biodiversity and importance to regional ecological processes of such forests, this makes "Greater" Murramarang National Park an essential dual coastal-forest extension to the Southern Region's 'comprehensive, adequate and representative' reserve system. An expanded, ecologically viable "Greater" Murramarang National Park is clearly required under both the NSW forests policy and the NSW coastal policy, both of which call for a 'comprehensive, adequate and representative' reserve system.
BIODIVERSITY – FAUNA
Biodiversity values are high. 207 bird species, including 136 forest bird species. Surveys of the Jervis Bay region have revealed 108 forest species, regarded by Braithwaite et al. of CSIRO Wildlife and Ecology as "a relatively rich bird fauna." Thirty-nine native terrestrial mammal species are known from "Greater" Murramarang National Park.

Squirrel Glider
Lesley Wallington - FoD



There are 26 threatened fauna species recorded in the "Greater" Murramarang National Park, as listed under the NSW Threatened Species Conservation Act 1995. This is regionally an exceptionally high number, and represents clearly important threatened species habitat.

The threatened birds recorded in "Greater" Murramarang National Park are the Masked, Sooty and Powerful Owls, Square-tailed Kite, Glossy Black-Cockatoo, Osprey, Regent Honeyeater, Olive Whistler, Blue-billed Duck, Sooty and Pied Oystercatcher, Lesser Sand Plover, Turquoise Parrot, Australasian Bittern and Ground Parrot. Threatened mammals include the Tiger Quoll, White-footed Dunnart, Yellow-Bellied Glider, Squirrel Glider, Long-Nosed Potoroo, Southern Brown Bandicoot, Common Bent-wing Bat, Eastern Freetail Bat, Large-footed Myotis Bat, Eastern False Pipistrelle, and Greater Broad-nosed Bat.






There is a paucity of data on aquatic fauna, reptiles and frogs. A preliminary aquatic fauna survey of Durras Lake and its catchment by the Australian/New Guinea Fishes Association revealed what may be a new species of Rainbow Fish.

A comprehensive survey, conducted in 1998 by the National Parks Association and Friends of Durras, found an abundance of new information on flora and fauna for the Benandarah section of "Greater" Murramarang National Park.

BIODIVERSITY - FLORA

Over 400 flora species have been recorded in the "Greater" Murramarang National Park.

The vegetation of the proposed extension is dominated by Eucalypt forests, including the Spotted Gum Corymbia maculata and Burrawang Macrozamia communis forests which the Australian Heritage Commission says have "high aesthetic value". The proposal area contains the largest known Spotted Gum in existence, in the South Brooman State Forest section. These eucalypt forests provide a diverse and abundant flowering resource for many species of bird, mammal and insect.

The area also includes highly significant pockets of rainforest. The Australian Heritage Commission states that "The rainforest remnants of the area are of high biogeographic significance as small remaining pockets of the once extensive rainforests of the region, including rare stands of subtropical/warm temperate rainforest which occur in the gullies of the western side of Durras Mountain." The AHC goes on to say "The lowland stands of subtropical-warm temperate rainforest in the gullies on the western side of Durras Mountain are unique due to the warm maritime environment, basaltic soils and protected aspects favouring subtropical elements in the flora otherwise not occurring this far south. The rainforests of the area are also significant for the large number of subtropical/warm temperate rainforest plant species which occur here at or near the southern limit of their distribution range." Some of the most significant stands are outside the National Park, in and around the undedicated Kioloa Forest Preserve on the western side of Durras Mountain and on the southern side of the road into South Durras near Durras Lake in Benandarah State Forest. The AHC (1978) lists 22 rainforest plants at or near the southern limit of their range as being present in Murramarang. Greater Murramarang contains warm temperate, warm temperate/sub tropical and littoral rainforest. Littoral rainforest – rainforest growing on sand near the ocean – is rare and of great conservation significance.

Greater Murramarang also includes estuarine and coastal communities. Most of the Durras Lake communities are unprotected. The AHC lists two estuarine communities; saltmarshes dominated by the beaded glasswort and the sea rush, and lagoon fringing communities dominated by swamp she oak and Acacia floribunda.



DURRAS LAKE

Kioloa and Benandarah State Forests surround Durras Lake and contain the majority of its catchment. Durras Lake (coastal wetland 215b) remains in near pristine condition, one of the only coastal lakes in NSW still encircled by near-natural vegetation. Professor John Chappell from the Australian National University's Department of Biogeography and Geomorphology reviewed coastal lakes and estuaries of the South Coast in 1986. He stated that, of the 59 lakes reviewed, Durras Lake was the least damaged, large, slow-turnover lake on the South Coast.

The Australian Heritage Commission also acknowledges the unique high conservation value of Durras Lake: "Durras Lake is the only large, slow turnover lake on the Eurobodalla coast that has remained relatively unspoilt and with forested catchment. This lake contains patchy Zostera and Halophila seagrass beds covering an area of 50.9ha and saltmarsh covering an area of 4.6ha. Two thirds of Durras Lake is comprised of wetlands, with highly productive saltmarsh areas and large seagrass beds of Zostera capricorni important for fisheries production. Durras Lake provides the third largest fish yield in the Eurobodalla Shire and significant prawn production."

Durras Lake will be included in the 1999 Directory of Important Wetlands In Australia.



CULTURAL VALUES

"The area is significant in displaying an uncommon richness and complexity of Aboriginal cultural features"

(Senator Robert Hill, 1997). The NSW Aboriginal Sites Register database reveals 392 recorded sites for the proposed State Forest additions. Denis Byrne from the Australian National University's Department of Prehistory and Anthropology believes that past and current forestry activities have severely disturbed Aboriginal sites such that "the archaeological context is no longer intact." Despite the intentions of forest managers to identify and protect sites from roading and logging "ground visibility is generally so low in forests that archaeological surveys can only record a fraction of the existing sites. A major advantage to archaeology of protected reserves is that they are the only means of conserving a currently invisible resource." European cultural values, which record the history of settlement of the south coast and especially of forestry activity, are also rich, similarly invisible and in need of protection.

VALUES UNDER THE REGIONAL FOREST AGREEMENT PROCESS

Almost all of Kioloa State Forest was deferred after the NSW Interim Assessment Process, in recognition of its important contribution to a Comprehensive, Adequate and Representative reserve system under the JANIS criteria.

Despite none of Benandarah State Forest being deferred under this process, FCNSW (State Forests) "recognises the high conservation values of this (the eastern ) part of Benandarah State Forest" (S Dodds, Regional Manager, 17/9/97) as does the Federal Department of Prime Minister and Cabinet. Under the renegotiated Deferred Forest Agreement between the Commonwealth and NSW Government, Benandarah Compartments 128, 129 and 133 "are to be placed on the end of the harvesting schedule and accessed only if all other reasonable options for providing resource have been exhausted" (Senator Robert Hill, 5/12/97).

Under the Interim Assessment Process data, Greater Murramarang is vital for the coastal Blackbutt forest ecosystem targets and the targets for old-growth forest ecosystem types 62 (Eucalyptus pilularis / Livistona australis / Acmena smithii) (Blackbutt, Cabbage Tree Palm, Lilly Pilly) and 65 (Eucalyptus pilularis / Corymbia maculata / Elaeocarpus reticulatus) (Blackbutt, Spotted Gum, Blueberry Ash), in order to achieve the JANIS criteria targets agreed by both the NSW and Commonwealth Governments. It also contributes significantly to the Greater Glider and Powerful Owl targets.

ECOLOGICAL VIABILITY

Murramarang National Park must be extended to ensure its ecological viability. Murramarang National Park is divided into a number of unconnected sections, most notably the two main sections bordering Benandarah and Kioloa State Forests respectively, which are separated by the State Forest and vacant Crown Land around Durras Lake. The Park is 44 km long, and yet is only an average of 366 metres wide – and as little as 50m wide in places. Although this protects the dune systems and some surrounding forest, it is clearly not ecologically viable or adequate for the long-term protection of its natural values, particularly for its forest ecosystems and biodiversity. The National Park must be extended over Durras Lake to connect its

two main sections, and extended west to the Princes Highway, to ensure that an ecologically viable area is conserved. Many forest species require large home ranges for survival, including the threatened Yellow-bellied Glider, Tiger Quoll, and Powerful, Sooty and Masked Owls, all of which are resident in Greater Murramarang.



RECREATION AND TOURISM

The proposed addition is essential for the recreational sustainability of Murramarang National Park. Murramarang National Park is the most popular national park between Shellharbour and the Victorian border, servicing the major population centres of Canberra, Sydney and Wollongong. Eurobodalla and Shoalhaven Shires are two of the fastest growing shires in NSW. Local visitor numbers are increasing rapidly.

In 1990, Tourism NSW considered Murramarang National Park, with its estimated 690,000 visitors, as "a feature of State significance." The NPWS Murramarang National Park Plan of Management recognises that this "high level of recreation use over a long period has resulted in vegetation damage and erosion and a lowering of the recreational and tourism value of a number of areas." The proposed addition would not only ensure the Park's long-term ecological and recreational viability but also enhance its potential as a regional tourism drawcard.

ECONOMIC

In 1986, 11.5% of Eurobodalla Shire's workforce were employed in tourism, while forestry, agriculture and fishing together, employed a combined 8.91%. By 1991, 13.4% were employed in tourism while only 6.3% were employed in forestry, agriculture and fishing together. Visitor expenditure in Eurobodalla Shire rose from an estimated $120 million in 1988/89 to $183 million in 1995/96. During that period the main reasons for visiting the South Coast remained the same: National Parks, beaches, historic towns and sites, and exploring. Visitors perceived the region as having beautiful beaches and unspoiled nature with minimal development. Eurobodalla is officially known as "Eurobodalla Nature Coast." Mr Dene Moore, Eurobodalla's Tourism Manager, recently stated that "there is no doubt that our (Eurobodalla's) natural attractions and environmental quality is a leading point for us in terms of competitive edge over many other regions in NSW and Australia." The NSW National Parks and Wildlife Service's Southern Region Operational Plan 1995-1998 agreed, stating "the (southern) coastal parks are key recreation destinations for visitors to the region (but) resultant economic benefits of this visitation are not always recognised by regional commercial interests and local governments." The Service's recognition of "the spread of economic benefits from nature tourism to regional areas of the State" is a major thrust of its 1997 Nature Tourism and Recreation Strategy which aims to "enhance the conservation status (of protected areas) and to positively assist a sustainable tourism and recreation industry in NSW." Shoalhaven and Eurobodalla Shires and their protected areas have much to gain from the pursuit of this policy.

Clearly the economic and employment benefits of tourism and recreation in Greater Murramarang far outweigh its value for forestry.

CONCLUSION

The additions proposed for Greater Murramarang are crucial to any comprehensive, adequate and representative forest reserve system for the South Coast region. Creating a "Greater" Murramarang National Park will be a wise and visionary land use decision - one that will have lasting benefits for biodiversity and nature protection, the quality of life of present and future generations of residents and visitors and for the region's fledgling tourism industry.

The Friends of Durras and the many other community and conservation groups who have actively worked towards the protection of this area – including, Total Environment Centre, The South-East Forest Alliance, National Parks Association, Australian Conservation Foundation, Coastwatchers and The Wilderness Society – call for the long-awaited and much required protection of the whole Greater Murramarang area as National Park.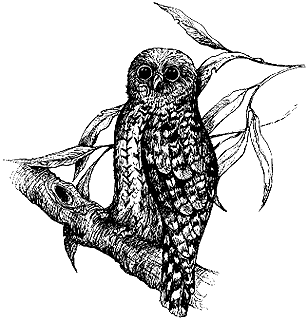 Powerful Owl
(Ninox strenua)
Lesley Wallington - FoD