PART 4: (CONTD.)




NATIONAL ESTATE VALUES

The entire

"Greater" Murramarang National Park is on the Register of the National Estate. Part of it was registered in 1983 as the "Benandarah Area, significant for both its natural and cultural values. The area contains a representative range of regional ecosystems which include forest, coastal, estuarine, riparian and wetland examples". "In addition the area is significant in displaying an uncommon richness and complexity of Aboriginal cultural features" (Senator Robert Hill, 1997). The remainder in adjacent Murramarang National Park, was listed on the Register of the National Estate in 1978.

The Register of the National Estate, compiled by the Australian Heritage Commission, "is Australia's national inventory of the natural and cultural heritage places which are worth keeping for the future" (Australian Heritage Commission, 1996).

Inclusion on the Register of the National Estate does not give the Australian Heritage Commission the power to veto activities a land manager undertakes within a National Estate area. It does, however, alert governments, planners, decision-makers, researchers and the community to the heritage values of these places so they can take action to conserve them. The Commonwealth Government was alerted to proposed harvesting activities in Compartment 133, Benandarah State Forest and acted to protect this National Estate listed compartment from integrated harvesting. Senator Robert Hill advised the Friends of Durras on 5 December 1997 that a Deferred Forest Agreement between Commonwealth and New South Wales Governments had been renegotiated. Under the new agreement State Forests agreed to place Benandarah State Forest compartments 128, 129 and 133 on the end of the harvesting schedule to be accessed only after all other reasonable options for providing resource had been exhausted (Appendix 12). The Friends of Durras successfully negotiated with State Forests to avoid harvesting in Benandarah State Forest during 1997, 1998 and 1999.

The actions of the Commonwealth Government are constrained as a result of listings in the Register of the National Estate. Under section 30 of the Australian Heritage Commission Act 1975 "the Commonwealth should take no action which adversely affects places listed in the Register of the National Estate unless there are no feasible and prudent alternatives" (Australian Heritage Commission, 1994). It is the Commonwealth Government which issues the necessary woodchip export licence for pulpwood sourced from Benandarah State Forest (and other southern forest areas) to be sent to Japan. To the Friends of Durras and many others in the community, there would appear "feasible and prudent alternatives" to sourcing woodchip from National Estate forests such as Benandarah which have "aesthetic, historic, scientific or social significance or other special value for future generations as well as for the present community" (Australian Heritage Commission Act 1975).

Delahunt, Mednis and Purdie (1991) from the Australian Heritage Commission examined the affects of integrated harvesting; roading, felling of trees, hauling of logs to sites for loading and transport to mills (snigging tracks, landing sites, debarking areas etc), silviculture techniques for regeneration (regeneration burns, soil ripping, fertilising, seed tree retention), and subsequent treatment (fuel reduction burns, herbicides, pesticides) and determined that they have a high potential to detrimentally affect National Estate forests. They concluded that the long term and broad scale effects of these forestry operations are relatively unknown. Knowledge of Australia's forests, their diverse ecosystems and dynamics is poor. Many forest areas have been barely studied at all, and some important fauna and flora groups, such as invertebrates, are little known. Within the forest ecosystems, some species have been relatively well researched; arboreal species, including birds for example. However, even for these species, knowledge of specific habitat requirement and population dynamics is still incomplete. To ensure the long-term survival of forest fauna, forest management practices must be based on a detailed understanding of the biology, habitat requirements and distribution of the faunal species, and their level of dependency on forest systems. The Heritage Commission considers that high priority should be given to research to obtain this knowledge for rare species (and for species whose conservation status is unknown) and for forest dependent species which are vulnerable to forestry operations.

"Intensive integrated forestry harvesting and subsequent management practices, such as control burning and thinning, are incompatible with the protection of National Estate forests. They destroy the very basis of what we value in those places - the naturalness and the lack of disturbance to the forest ecosystem. If we allow these practices to continue at the present rate, what little remains of our diverse native forests could be gone in the next twenty years" (The Australian Heritage Commission, 1989).




RECREATION

About 86% of Australia's population lives in local government areas adjoining the sea. In the ten years from 1981 to 1991, the rate of growth of the New South Wales coastal zone was nearly double that of the state as a whole. There are effectively no significant uninhabited areas of the New South Wales coastline outside national parks and reserves. Only three ten-kilometre long sections of the New South Wales coast have no occupants (Hamilton, 1997).

Between 1989 to 1994 the population of the Shoalhaven Statistical Local Area grew at 3.1% from 65,268 to 76,148. It was among the 25 fastest growing Statistical Local Area populations in Australia (ABS, 1993-94). Eurobodalla Shire's population growth has been similarly rapid. In 1981 the Shire had 16,000 residents. By 1996 a 65.8% increase had swelled the resident population to 26,520. The New South Wales population rose during that same period by 13% (New South Wales Country Embassy, 1995). High density coastal development south of Batemans Bay is testimony to rapid population growth. Trends indicate that future population growth in New South Wales is likely to continue to be concentrated in coastal areas. There is a need to reconcile the rapid population growth with the need to preserve high quality recreation areas and what remains of valuable ecosystems. These are becoming scarce.

The

"Greater" Murramarang National Park protects the natural assets which make the coastal zone a desirable place to live as well as conserving the coastal ecosystems necessary for the survival of a variety of life forms (NSW Government, 1997) .




WILDERNESS

No wilderness has been identified in the

"Greater" Murramarang National Park. The nearest coastal wilderness area to the south is Nadgee, on the Victorian border. A number of provisionally identified wilderness areas are small (Gibralter Range State Forest, 3,097 ha; Barrington Tops State Forest, 1,572 ha for example). With rationalisation of existing roads and the adoption of a recreational strategy like the Recreational Opportunity Spectrum, the "Greater" Murramarang National Park would have many of the qualities expected in a wilderness area. The upper reaches of Durras Lake are remote and offer self-reliant visitors a feeling of being very distant from the bustle of the developed world. In the relatively heavily settled coastal regions of south-east Australia such remote 'wild(erness)' places are rare.




SCIENCE AND EDUCATION

The Edith and Joy London Foundation (through The Australian National University) operates a field studies centre with accommodation at Kioloa. The State Forest and National Park are used extensively for a wide range of biological and cultural resource studies. As a result, the area's natural and cultural history is perhaps the most comprehensively assessed of any forested area in New South Wales. The Foundation also conducts a holiday program of nature-based activities and lectures which are well attended by the public. The Friends of the Edith and Joy London Foundation support the creation of the

"Greater" Murramarang National Park and are keen to actively participate in its future management. The Foundation is currently attempting to purchase private land on its western boundary to ensure its protection as a study area.

The Australian National University and other secondary and tertiary education institutions regularly visit and study Wasp Head as a fine example of Permian geology.

The Friends of the Eurobodalla Botanic Gardens are very much in favour of the creation of the

"Greater" Murramarang National Park (Appendix 13). Part of their work is to collect plant material and although State Forests have co-operated with the Gardens in allowing collectors to work in the forests, national parks offer greater security from a horticultural and scientific point of view. "It is much better to work in areas where there is no threat to the understory, which is the place where the most desirable plant material is found."

The Friends of Durras regularly assist students and educational institutions with material and guidance on field trips to the

"Greater" Murramarang National Park. One such is the Orana School of Canberra whose upper school geography, art and science classes visit the area each year.




FISHING

Fishing is an enormous income earner for Eurobodalla and Shoalhaven Shires and is one of the leading visitor activities. The security of protection the

"Greater" Murramarang National Park would offer to the ecological systems of Durras Lake and commercial and recreational fishing has been expanded upon in "Fishing" (p.42). The full range of tourism, recreational and ecological values associated with Durras Lake have been examined in "Durras Lake" (p.41).

The Intertidal Zone

The

"Greater" Murramarang National Park will include the bed of Durras Lake and extend to ocean low water mark. Currently Murramarang National Park is under the control of the NSW National Park and Wildlife Service; Durras Lake under NSW Waterways and NSW Fisheries control and the intertidal zone managed by NSW Fisheries. A single managing authority with an on-site ranger would eliminate duplication of roles, be more efficient and effective and avoid public confusion over the governing authority.

The

"Greater" Murramarang National Park's 44 kms of coastline has a variety of hard and soft shore marine ecosystems. Recreational activity of humans in marine environments is increasing, particularly the use of intertidal habitats. Humans collect plants and animals for food and bait and walk over much of the shore (both hard and soft) during both active extractive activities (fishing, collecting) and more passive recreation (exercising, sunbaking, swimming). Recreational fishing is growing (see XXX) and a large proportion of anglers obtain their own bait from pumping ghost shrimps or worms from sand flats and collecting algae, crustaceans, gastropods, bivalves and ascidians from rocky shores. These are potentially very pervasive activities because these organisms are removed from populations. In areas of the "Greater" Murramarang National Park close to villages, intertidal zone plants and animals have been heavily exploited and depleted. There is a need to integrate the management of our marine and adjacent terrestrial and freshwater habitats. The Friends of Durras believe management would be most effectively and efficiently achieved by the "Greater" Murramarang National Park's resident rangers.

RETIREES
Retirees constitute a large proportion of the population of Eurobodalla and Shoalhaven Shires. The dependency ratio in Eurobodalla Shire is 0.70, well above the New South Wales average of 0.51. Retirees are a major regional industry. Batemans Bay real estate agent Mr. Geoff Payne believes they always will be. "They (retirees) want to go somewhere that's clean, that's pristine, that's friendly, that's unspoiled.." (Bay Post/Southern Star, June 17, 1998). Proximity to national parks is seen as a major real estate selling point, with advertisements for properties in North and South Durras and Depot Beach promoting "once in a lifetime" buys, "a short walk to the national park" and "surrounded by Murramarang National Park."

HOME-BASED PROFESSIONALS
Another growing contributor to Eurobodalla and Shoalhaven Shire's economic base are professionals taking advantage of high technology to relocate to regions of high quality amenity. Many spend one or two days in a larger centre, returning to their homes to continue business using information technology systems (Eurobodalla Shire, 1998).

BEEKEEPING
In Canberra (21 August 1997) the workshop on the development of regional indicators for economic aspects of sustainable forest management recommended that each region value non-wood forest products. Honey and firewood were defined as non-wood forest products. Beekeepers do use Benandarah and Kioloa State Forests. However, the NSW National Parks and Wildlife Service (1998) believes apiary sites close to Murramarang National Park, constitute a threat to ecological processes within the Park.
Scientific investigations have found that European honeybees can be in serious competition with native animals, particularly native bees, honeyeaters and small mammals and have significant effects on native flora including increasing hybridisation between species. Birds Australia, the country's premier bird organisation, agrees that European honeybees can be a serious problem especially in competing with native species for nest hollows. They have been found to take natural tree hollows over permanently as well as compete with birds and native insects for nectar (Birds Australia, www homepage).
State Forests do not allow bee hives in the Durras Lake Flora Reserve in Kioloa State Forest (The Forestry Commission of NSW, 1988). There appears to be a number of issues where State Forests have distinctly different attitudes between 'conservation' and 'production' forests. If State Forests are serious about biodiversity conservation in all our public forests, expert opinion should be consulted as to the impacts of introduced bees on native flora and fauna.




FIREWOOD

Firewood permits can be obtained from State Forests, Batemans Bay to collect firewood in Benandarah and Kioloa State Forests. Permits cost around $30 for 6 months and enable the holder to collect an unlimited quantity of firewood during that period. In any year, the number of firewood collectors is likely to be far greater than the number of permits sold. When the

"Greater" Murramarang National Park is declared, firewood collecting in what was Benandarah and Kioloa State Forests, east of the Princes Highway will no longer be permitted. Permits will still enable holders to collect firewood in the forests west of the Princes Highway, only 10 kilometres from the coastal villages. Local businesses offer delivered firewood at prices well below those experienced elsewhere in southern New South Wales.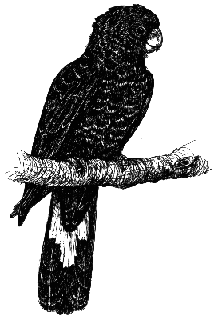 Glossy Black Cockatoo (Calyptorhynchus lathami)
Lesley Wallington – FoD

COMMUNITY SENSE OF STEWARDSHIP
The important role communities play in conservation is widely appreciated by government authorities. The House of Representatives Standing Committee on Environment, Recreation and the Arts pointed out that "Essentially, community groups are on the spot, implementing works on the ground in their local area. They are extremely cost effective and efficient, giving large amounts of valuable time and often valuable resources as well."
People learn by becoming involved. The Chinese proverb illustrates the value of involving all stakeholders in conservation at all levels:
Tell me and I'll forget

Show me and I may remember

Involve me and I'll understand
The more people understand the need and value of conservation, the greater chance there is for a sustainable future. As a general rule, top-down processes require more information and information synthesis than bottom-up processes. They also tend to be less flexible and, as a result, more prone to administrative failure. The Networks Conference attended by Australia's leading land managers, scientists and a wide range of stakeholders concluded that to charge government agencies with the primary task of conservation is doomed to fail for three reasons. Firstly, this approach allows the rest of society to ignore conservation as "not their job." Secondly, the tasks of conservation, including restoration and community education, are too vast to leave to just one part of society, or a group with restricted skills. Lastly, nature and conservation problems are not constrained by park and reserve boundaries. Until there is a prevailing ethic that conservation is the role and responsibility of every individual and every land manager, much life on Earth has a doubtful future (Craig et al, 1995).

From a government perspective, community involvement also makes good practical, economic sense. Community-initiated biodiversity protection harnesses local knowledge, which can be provided at minimal cost and is often invaluable. Community-based initiatives usually involve considerable contribution in the form of voluntary labour and privately financed investment while at the same time developing land-user awareness and motivation. One review of community projects in Victoria concluded that for every dollar given to a community or project, an additional eight dollars is generated within that community, either in cash or in kind. Community involvement also creates ownership and pride in the solution to a problem (Young, etal., 1996). The Atlas of Australian Birds is the most outstanding example of a continental community project where nearly 3,000 observers, mostly unpaid amateurs, provided 2,700,000 sightings of birds over a 5 year period (Blakers et al, 1984). Environment Australia has just announced a $1.2 million grant to Birds Australia to undertake the second Atlas of Australian Birds.

The history of the Friends of Durras, their economic and social contribution, commitment and sense of stewardship shown towards conservation issues in general and the

"Greater" Murramarang National Park and the South Durras area in particular, has been outlined in detail in "Community Support and Commitment" (p.15).

Forest conservation issues are of great importance to all people, at all levels in all areas of New South Wales. The Australian Bureau of Statistics' 1996 survey of environmental concerns found that the "Destruction of trees/ecosystems/deforestation" was the fourth most commonly reported concern of New South Wales residents. The seventh most commonly reported concern was "Destruction of animals/wildlife/extinction of species." Of lesser concern, rated as the eleventh most pressing public environmental concern in New South Wales, was "Soil erosion/salinity/land degradation." Scientific research and public opinion strongly support the strategies by the Commonwealth and State governments to arrest soil erosion, salinity and land degradation. The co-operative, concerted effort by scientists, the public and politicians have made this issue a national environmental priority. Governments have invested millions of dollars in supporting Landcare, Bushcare and Coastcare groups and funding rehabilitation projects through such schemes as The Australian Trust for Conservation Volunteers, Green Corps and The Natural Heritage Trust.

In the eyes of science and the public, the destruction of trees, ecosystems, deforestation and the destruction of animals, wildlife and the extinction of species are even more pressing national issues than soil erosion, salinity and land degradation. The public demands that governments address these issues. The Regional Forest Assessment process is an attempt to meet these concerns. But short-term measures such as those that have been used in the past have no place as we approach the new millennium. We are the custodians of this precious legacy and we must act to ensure future generations have access to the economic prosperity and the rich environment we are blessed with. It is time that government rhetoric turned to action to arrest deforestation, the destruction of ecosystems, animals, wildlife and the extinction of species.






CONCLUSION
National Parks have traditionally been formed as a result of community pressure to save beautiful, natural places that people love.
As we have learned more about ecological processes and biological diversity our national parks have been expected to fulfill a crucial role in protecting them.
The pressures on, and expectations of, our national parks are already intense. The demands on them to fulfill a variety of roles will undoubtedly increases as population and development pressures increase.
Nowhere will the pressures be more intense than our coastal national parks. They are the resource around which current and future tourism will be based. They are the source of incalculable amenity to every Australian. They also need to be places where coastal processes and ecosystems can continue to function unhindered by modern lifestyles; and where our wildlife can be certain of a secure future.
"Greater" Murramarang National Park would satisfy all these aspirations and objectives: loved by the local community and a great many other Australians; protecting a wide variety of landscapes, ecosystems, plants, animals and birds; and an outstanding tourism and recreational resource – the logic for creating this park is unassailable.
Support for this proposal would be lauded as a visionary move by the New South Wales Government.